MFI Nylon Braided Data Cable
author: Ganhui Group
2023-07-14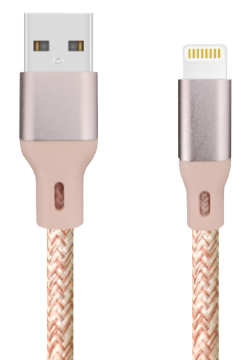 MFI Nylon Braided Data Cable
In this era of mobile phones, no matter where we are, mobile phones and data cables are essential. As the saying goes: when you go out, you are not charging or on the way to find a charger. Since you want to charge, you must have a data cable. Whether at home, in the office or on the road, the data cable can meet everyone's charging needs.
Our factory has been engaged in the data cables industry for more than ten years, as a senior supplier, we really have a lot of experience in this area. Today here to introduce a hot data cable. This data cable is USB A to lightning, the connector is C189, nylon braided and aluminum alloy material make it more durable, not easy to deformation, strong tensile performance, after repeated pulling test, to ensure the service life of up to several years. The appearance design is exquisite, simple and fashionable. There will be no drawing phenomenon, good resilience. High-speed transmission, stable connection, more efficient data transmission. Signal transmission is stable, to avoid line drop and power failure phenomenon. Suitable for a variety of device types, including iphones, tablets and laptops. A variety of colors are available to meet the individual needs of different users.Once this data line came out, it was popular in many countries and won unanimous praise from the public.
A small data cable may look insignificant, but it has become an indispensable part of our lives. It can help us when we need it. As the saying goes, details determine success or failure, it is because of the importance of details, so we focus on high-quality data lines. This product can meet the needs of the public in terms of appearance, price and quality, which is the best choice.   
Please click the image below for details of the data cable.