Cracked TWS Earphone
author: Ganhui Group
2023-08-02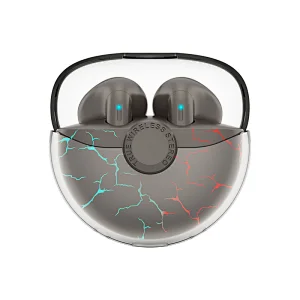 Creaked TWS Headphone
In today's fast-paced economy, the demand for high-tech products is at an all-time high. As a result, there has been a flood of 3C products flooding the market, including headphones. However, many of these lack personality and unique features. This is where our new cracked TWS headphones come into play. Not only do they boast a distinct appearance, but they also stand out for their one-of-a-kind functionality. Let's take a closer look at what makes them so special.
The cracked TWS earphones are the perfect wireless solution for music and phone calls. With advanced wireless technology, this headphone seamlessly connects to phones and computers, allowing for convenient operation. The unique crack design not only enhances its appearance, but also effectively prevents friction and wear, thus extending its service life.The cracked TWS earphones deliver excellent audio quality with leading audio processing technology, resulting in high fidelity audio performance. Additionally, the use of a high sensitivity microphone ensures call quality while effectively reducing noise.With its stylish appearance and exceptional performance, the cracked TWS earbuds are the perfect choice for anyone who demands high-quality audio and stylish design. Whether you're commuting to work, or enjoying the outdoors, TWS headphones can be your best musical companion. This headphone is suitable for a variety of scenarios, including sports, study, travel, leisure and entertainment. Regardless of the situation, the cracked TWS headphones can provide you with a high-quality music experience and comfortable wear, making it your indispensable music companion.
Our company is committed to producing high-quality products. Our cracked headphone is not just popular for its appearance, quality and price, but also because it allows music lovers to fully immerse themselves in the world of music. Music has the power to evoke emotions and our headset ensures that you feel every beat and note, taking your music experience to a whole new level. A good headset is essential for music enthusiasts, and the cracked headset is the ultimate choice.
Please click the image below for the details of the cracked TWS earphone.